The Four Ships that constituted the MITSCHER class of Destroyer Leaders (DL) were in fact laid down in 1949 originally as basic fleet destroyers (DD) with conventional destroyer batteries with the sole innovation being the twin 5-inch/54 caliber gun installation in a semi-automatic version. However they were rated as Destroyer Leaders (DL) during building in 1951 and then again re-rated as Frigates (DL) on 1 January 1955.
At the time of their construction the MITSCHER's, being some 494 feet long, were the largest Destroyers in the U.S. Naval fleet as well as in the world. These Destroyer Leaders were to be the flagships for the destroyer squadrons escorting Aircraft Carriers. In that role they would practice the lessons learned of WWII in that carrier Aircraft-fighters, controlled by the carrier and fed with contact information from the radar picket destroyers coupled with the destroyer's own anti-aircraft batteries was the most important method of Carrier-defense . This role required a new design specifically to meet the long range of the accompanied Carriers. With that role they were to perform both the administrative and ASW functions required to meet the role as Flagship; this new design of destroyer, named the MITSCHER-class resulted in the construction of four vessels considered experimental.
All 4 of the MITSCHER class were ordered on 03 August 1948. They were each named for Admirals of the Second World War and used as destroyer squadron flagships yet the similarities stop there. Each vessel received a different combination of Boilers and propelling machinery as well as other systems to see which combination would work best in the next generation of missile frigates intended to screen fast carrier task forces. That next generation became known as the "Coontz" class DLG.

While experimental, the four MITSCHERs introduced the U.S. Navy to 1200 PSI steam boiler Systems and while this system did provide greater power for the same sized steam plant, the complexities of the automated systems were troublesome in service to the point where MITSCHER and JOHN S McCAIN had to be re-boilered to remain operational. This was required because, strategically, the mission of the MITSCHERS demanded that they be fast and therefore be immune to submarine attack. Much of the hull as well as propeller design had been built around speed and not silencing. Indeed, the ASW capabilities of the MITSCHERS were relatively minimal with the primary weapon system being guided torpedoes fired from a fixed tube, with a pair of WEAPON ALPHA rocket launchers and a single depth charge rack as backup.

MITSCHER CLASS FLEET DESTROYERS (Frigates) (DL)

Name of Ship

Hull No.

Builder

Launched

Stricken Date

MITSCHER

DD-927 / DDG-35 / DL 2

Bath Iron Works, Maine

26 Jan. 1952

01 June 1978

JOHN S. McCAIN

DD-928 / DDG-36 / DL-3

Bath Iron Works, Maine

12 July 1952

29 April 1978

WILLIS A. LEE

DD-929 / DL-4

Bethlehem Steel, Quincy

26 Jan. 1952

15 May 1972

WILKINSON

DD-930 / DL-5

Bethlehem Steel, Quincy

23 April 1952

01 May 1974
MITSCHER's FRAM / CONVERSION PROGRAM
FRAM: Although all MITSCHERS were completed by 1954, their troublesome boilers required constant maintenance to keep them sea worthy. All four MITSCHER class ships underwent FRAM beginning in April 1960 with the average time taking 1 year. Besides boiler work, other modifications included the replacement of the three inch guns. While newer enclosed 3-inch/70 caliber guns were installed in 1957-58 to replace the existing "open-mount" 3-inch/50 caliber guns, the aft mounted 3-inch/70 caliber twin mounting was removed as well as the four 20mm anti-aircraft twin mounts during FRAM for the DASH helicopter platform. The DASH hangar was installed by placing it above the torpedo room aft of the No. 2 stack. This required the SPS-8 Radar to be moved to a top the aft funnel.The depth charge rack and MK 108 WEAPON ALPHA was also removed to accommodate the increased weight of the new 3-inch/70 caliber twin mounts.
During FRAM, the obsolete SQS-4 Sonar system, installed in the mid 1950's, was replaced but varied by ship. For the WILKINSON and WILLIS A. LEE, they were heavily modified by the installation of a new 70-foot bow section and the accompanying large bow-mounted sonar dome for the prototypes of the new SQS-26 Sonar system. MITSCHER and JOHN S McCAIN received the standard SQS-23 system common to the DD FRAM program and no bow-extension.
The "Conversion Program" of FY 1964 at the Philadelphia Naval Shipyard only dealt with the update of the ship's systems to become guided missile destroyers (DDG) just like the "COONTZ" class (DLG) which now had been in service for 4 years. During that conversion the TARTAR missile launcher and ASROC systems were installed on MITSCHER and JOHN S. McCAIN. However, when it became clear that the TARTAR surface-to-air-missile (SAM) system did not work as well as expected, WILLIS A. LEE (DL-4 seen right) and WILKINSON did not receive the conversion.

MITSCHER CLASS FLEET DESTROYERS (Frigates) (DL) SPECIFICATIONS

Displacement:

3,331 tons light, 3,642 tons standard and 4,855 tons FULL LOAD

Dimensions:

494 feet long x 50' beam x 26' Draft

Guns:

2 qty, 5-inch/54 Caliber Single dual purpose Gun Mounts; rapid fire, radar controlled
2 qty, 3-inch/70 Caliber twin Gun Mounts (aft later removed for DASH)

ASW Weapons:

2 qty, DASH Helicopters, 6 homing torpedo tubes (2 qty, MK 32 Triple Torpedo mounts) and 4 qty 21-inch fixed tubes.
Single Depth Charge Rack
Note: DL-2 and -3 eventually received MK-116 Octuple ASROC launcher during DLG conversion and was without re-load capability replacing MK 108 Weapon Alpha and landed where forward 3-inch/70 Caliber twin gun mount was.

Electronics:

RADAR

ALL MITSCHERS Originally had:
Air Search Radar: SPS-6
Height Finding Radar: SPS-8

CONVERSION NOTES: DL-2 and DL-3 received the following when converted to DLG:
Air Search Radar: SPS-37
Air Search Radar coupled to Fire control system: SPS-48
Missile Director Radar: SPG-51 (two)

SONAR

Sonar: Originally SQG-1 replaced in all 4 ships with SQS-4 in mid-50's.

FRAM: DL-2 and 3 received SQS-23. DL-4 and 5 received SQS-26

Boilers (DL-2 and DL-3):

Four Controlled Circulation Type 1, Foster Wheeler Boilers operating pressure 1225 psi at 950 degrees F.

Boilers (DL-3 and DL-4):

Four Foster Wheeler Drum-Type Boilers operating pressure 1200 psi at 965 degrees F.

Machinery (DL-2 and DL-3):

2 General Electric propulsion turbines each coupled to a General Electric locked-train double reduction gears. 2 Shafts, 80,000 SHP = 35 Knots

Machinery (DL-3 and DL-4):

2 Westinghouse propulsion turbines each coupled to a de Laval locked-train double reduction gears. 2 Shafts, 80,000 SHP = 35 Knots

Oil Fuel:

5,288 barrels NSFO and 170 barrels of Diesel Oil = 740 tons

Radius:

At 4,855 tons full load maximum speed is 36.5 knots with endurance of 4,500 miles at 20 knots

Complement:

Allowance: 339 (19 officers, 320 enlisted men)
Accommodation for 30 officers, 350 men.

The FATE of the MITSCHER class of DL's
The MITSCHER's Steam plant issues dogged the class. Maintenance was very difficult. Automated controls were complex and sensitive, and the steel used in the plant could not be welded by ship's company resulting in serious reliability issues. The 40 missile TARTAR battery which had only a single arm to launch the missiles, and whose performance was criticized as "non-effective" added unacceptable topside weight. Together these problems doomed the unconverted WILLIS A. LEE and WILKINSON. They were decommissioned after only 15 years of service in 1969. The "converted" MITSCHER and JOHN S. McCAIN (owing to their re-boilering) were able to serve an additional ten years beyond their sister ships and were finally decommissioned in 1978 after 25 years of service.
While the MITSCHER class ships were "experimental and developmental" destroyers and had their problems as such, there are three important historical footnotes for this class of vessel especially the MITSCHER herself that effects the Gyrodyne Helicopter Historical Foundation deeply. They are:
1. Operating from the USS MITSCHER (DL-2) in February 1957 off the coast of Key West, Florida, a piloted, Bell model HUL-1 Helicopter successfully flew to and from MITSCHER carrying MK 43 Torpedoes demonstrating that a helicopter assigned with torpedo carrying-tasks could operate from a U.S. Naval destroyer. This was the first time the helicopter had been used for this purpose!
The Navy purchased 5 of these aircraft (similar to the helicopter at left) and designated them UH-13P SIOUX.
2. Operating from the USS MITSCHER (DL-2) on 23 May 1957, a droned KAMAN HTK-1 helicopter (seen right) called the "Yellow Peril", carrying a safety pilot, successfully operated from the ship in the area of Narragansett Bay, Massachusetts. Landing on the Fantail (MITSCHER would not receive a landing platform until 1960) of the ship, numerous takeoffs and landings were performed from the controllers on-board MITSCHER. These tests validated the concept that a drone helicopter could operate from a destroyer-sized vessel.
3. Operating from USS MITSCHER (DL-2) on 01 July 1960, a droned GYRODYNE model DSN-1 helicopter, with safety pilot, conducted the first at-sea landing off the coast of Long Island, New York; flying from Gyrodyne's manufacturing facility. The DSN-1 helicopter, a droned version of Gyrodyne's XRON helicopter for the Marine Corp, was built under contract with the Navy for GYRODYNE to build a dedicated remote-controlled helicopter expressly for the delivery of torpedoes for the Drone Anti-Submarine Helicopter (DASH) program. The DASH system was created under the Fleet Rehabilitation and Modernization (FRAM) reconstruction program as part of a new weapon system to give destroyers a weapons range which equaled the long-range detection ranges of the SQS-23 Sonar system which FRAM also provided. The DSN-1, powered by a 72-Hp Porsche reciprocating engine was the developmental model for the turbine-powered QH-50 series of drone helicopters. On July 1, 1960 the DSN-1 made several takeoffs and landings while the MITSCHER varied course and speed. These tests were the first for the DSN-1 at-sea and were conducted with MITSCHER enroute to summer training off Guantanamo Bay, Cuba. At this time, MITSCHER was homeported at Newport, R.I. and was under the command of Commander Maylon T. Scott, USN.
On August 12, 1960, the droned XRON, this time without safety pilot, first flew on August 12, 1960 (seen right) at Patuxent River, Maryland. This was the first remote controlled helicopter flight in the world. Subsequently, over 750 of the QH-50 series of helicopters were purchased by the Navy, Air Force and ARMY for a variety of weapons and sensor applications. But the success of the QH-50 and that of DASH began on MITSCHER and that legacy continues to this day. The QH-50s continue to fly at White Sands Missile Range under Command of the U.S. Army's Program Executive Office for Systems, Training and Instrumentation.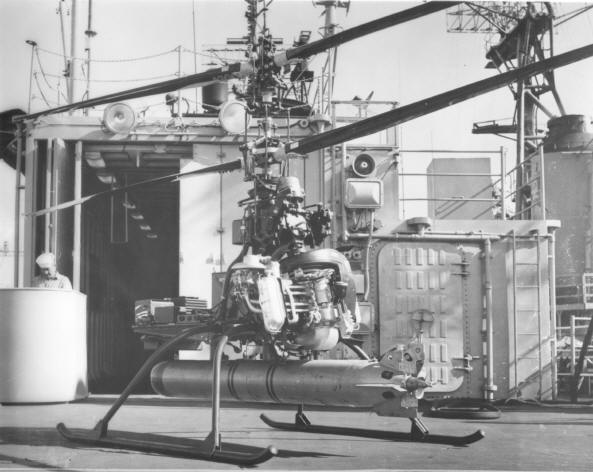 A Close up of the DSN-1 Drone, later tested off Key West Florida on the USS HAZELWOOD (DD-531)
Without the safety pilot aboard, the QH-50A made the first unmanned helicopter landing aboard the USS Hazelwood (DD-531) while at sea on December 7, 1960. In subsequent operational evaluations off Key West, Florida, 38 flights were made from the Hazelwood and 22 simulated ASW missions confirming the feasibility of the DASH weapon system. The Hazelwood would later be converted as the trial ship for DASH development.

Many thanks to ALL the Crewman of the Four MITSCHER Class Destroyer Leaders who supplied information and assistance to us for the building of this page so that their history could be presented here.
Many thanks, again!