Originally built as "Gearing Class" Destroyers, ships Basilone (seen left) and Epperson were converted to anti-submarine warfare (ASW) and completed as destroyer escorts (DDE). Five other "4-gun Gearings" were re-designated DDE's on 4 March 1950. These SEVEN GEARING ships, designated as Destroyer Escorts for ASW missions created the BASILONE class DDE.
FRAM: These seven ships all underwent FRAM MK I reconstruction and by 1 July 1962 all had been reclassified as DDs. All these ships were Group B variants of the FRAM MK-1 reconstruction in that they kept their more forward 5 inch mount (mount 51), lost the second mount (Mount 52) behind it and kept their aft 5 inch mount (mount 53). In place of mount 52, a practice 5 inch reloading machine was installed with the MK-32 triple torpedo launchers aft of the loader. Group B ships also received greater ASROC and torpedo storage areas next to the port side of the DASH hangar. Total cost to FRAM this class was $ 53,900,000 in FYE 1964.
BASILONE CLASS DESTROYERS

Name of Ship

Hull No.

Builder

Launched

Stricken Date

824

Consolidated Steel, Orange TX

21 Dec. 1945

01 Nov. 1977

DAMATO

871

Bethlehem Steel, Staten Island NY

21 Nov. 1945

01 Oct. 1980

EPPERSON

719

Federal Shipbuilding, Kearny NJ

22 Dec. 1945

30 Jan. 1976

HOLDER

819

Consolidated Steel, Orange TX

25 Aug. 1945

01 Oct. 1976

818

Consolidated Steel, Orange TX

18 Aug. 1945

01 July 1976

RICH

820

Consolidated Steel, Orange TX

05 Oct. 1945

15 Dec. 1977

ROBERT L. WILSON

847

Bath Iron Works, Bath ME

05 Jan. 1946

30 Sep. 1974

BASILONE CLASS DESTROYER SPECIFICATIONS

Displacement:

2,425 tons standard (3,479 tons full load)

Dimensions:

390 1/2 x 40' 10" beam x 18'6" maximum draft

Guns:

2 qty, TWIN 5 inch/38 caliber MK 12 mod 1 guns installed on MK 38 gun mount

Weapons:

MK-112 ASROC launcher and 2 qty, DASH Helicopters, 6 homing torpedo tubes (2 MK 32 Triple Torpedo mounts). TWO Mark-10, 7.2" HEDGEHOG Projector ( "ahead-thrown-missiles" launches 24 - 7.2 inch missiles with contact fuses) location dependent on Group model of FRAM I.

Machinery:

2 Westinghouse turbines coupled to 2 DeLaval locked-train double reduction gears. 2 shafts, 350 RPM, SHP: 60,000 = 34.5 knots

Boilers:

FOUR Babcock & Wilcox working pressure 565 PSI at 850 degrees F

Oil Fuel:

4,647 barrels NSFO and 167 barrels of Diesel Oil = 650 tons

Radius:

At 2,425 tons standard maximum speed is 34.5 knots with endurance of 6,500 miles at 15 knots

At 3,479 tons full load maximum speed is 31.3 knots with endurance of 5,370 miles at 15 knots

Complement:

Allowance: 264 (14 officers, 250 men) Accommodation for 21 officers, 270 men.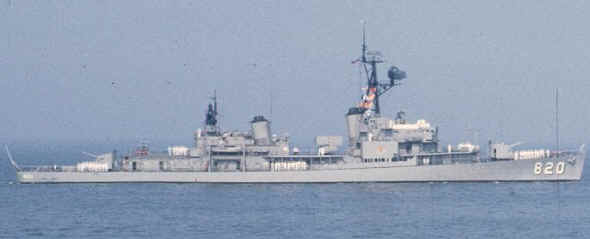 USS RICH (DD-820) which started life as a BASILONE class DDE, a derivative of the GEARING CLASS DD, as it appeared after its FRAM I reconstruction which brought DASH (note QH-50D on flight deck) and ASROC (note launcher between stacks) along with the return of its DD classification on 1 July 1962.

Below are some special DASH-equipment-On-Ship pictures taken during FRAM of a BASILONE class, Gearing variant Destroyer, the USS ROBERT L. WILSON.





U.S.S. ROBERT L. WILSON (DD-847)

A BASILONE class destroyer, she displaced 3460 tons when full, was 390 feet long, had 60,000 SHP, General Electric Geared Turbines powering 2 screws to a maximum speed of 36.8 knots.

She was laid down by Bath Iron Works, Bath ME on July 2 1945, Launched January 5 1946, commissioned on March 28 1946 and eventually stricken on September 30 1974. She was sunk as a target off Puerto Rico on January 25 1980.

Above, this is the Starboard side of the Flight deck of the WILSON- the area at right is the Deck control station for the DASH. Here the DASH Controller would launch DASH for hand-off to the CIC (combat information center) operator.
Above, here we are looking inside the Hangar where QH-50C, DS-1138 is stowed with the removable work stand attached to the aircraft. This view is Starboard, looking forward. Note the Blade containers at top-right.

Above, the "Library of Manuals" can be seen behind a piece of equipment called the AN/ASM-103 Automatic Flight Control Field Analyzer. The manuals required for the aircraft equipment as well as ship-based equipment exceeded over 30 volumes!

Above is the transmitter room on the WILSON. The DASH equipment begins at far right- that is the twin installation of the AN/URW-14A Radio Transmitting Sets, and below that is the PP-2288/SRW-4 Power Supply and twin set of KY-342/SRW-4C Audio Frequency Coders. Left of that assembly is the Target Control System Test Set (AN/SRM-5).