The Model QH-50C DASH
With 378 aircraft delivered by January 1966 (end of production for the C model) for the U.S. Navy's DASH (Drone Anti-Submarine Helicopter) weapons program (along with 4 additional manned versions for testing), the QH-50C provided each of the then 160 DASH equipped U.S. Destroyers (2 per destroyer) a lethal capability of delivering two MK-44 homing torpedoes to a sonar contact some 22 miles away from the launching destroyer; far in excess of the then 1-5 mile effective range for ASROC (anti-submarine rocket). Yet DASH was special in that it could be recalled if the target turned out to be friendly. DASH also was reusable; something ASROC was not.
DASH and ASROC were modernization ideas of then 3rd Term,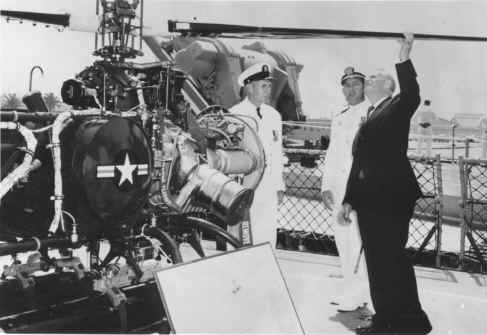 Chief of Naval Operations, Admiral Arleigh A. Burke (1902-1996). Known as "31-Knot Burke" for his exploits as a destroyer squadron commander in the pacific theatre during World War II, now CNO Admiral Burke (see right-examining a QH-50C on the USS Anderson at San Diego on Sept. 1, 1962) looked for ways to save his beloved WW II era destroyers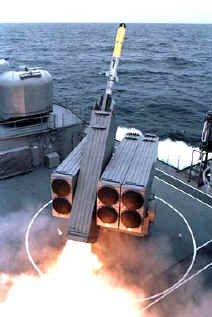 from the scrappers torch due to obsolescence. He found that solution in a combination of "stand-off" weapon systems called DASH and ASROC-seen left.
The simple idea behind DASH was that DASH could attack a submarine at ranges well outside the submarine's own range of attacking the DASH launching destroyer. CNO Burke stated this need in his Development Characteristic Number AS-04504-2 of August 21, 1957, which set the criteria and capabilities for the development of an unmanned, remotely controlled, drone helicopter for delivery of antisubmarine warfare weapons from destroyers and other small sized ships. From this development characteristic DASH evolved. However, the actual capabilities for DASH to work, was found in the proposed gas-turbine powered QH-50C model in its ability to carry twin MK-44 homing torpedoes versus the single weapon carrying QH-50A and B models and also do so using heavy fuel and not aviation gasoline.
Based upon the promises Gyrodyne made of the QH-50C "proposed" capabilities, the Navy initiated it's FRAM using DASH conversion program whose hangars would be specifically designed around a twin QH-50C drone installation.
CNO Burke intended to use the DASH and ASROC programs to extend the life of the Destroyers and install them as part of his proposed "Fleet Rehabilitation and Modernization" (FRAM) program. The Secretary of the Navy ordered the FRAM program to begin in 1960.
Differing among classes of destroyers, the FRAM application was different for each class and extensive- the FRAM destroyer not only had its' hull and machinery refurbished, but a new superstructure was installed as well. The Sumner and Gearing (a fourteen-foot stretch version of the Sumner class) class destroyers held the greatest promise for expansion of its platform into a force multiplier. There were two levels of FRAM- FRAM-I & II. For purposes of accuracy, both are presented herein:
| | |
| --- | --- |
| | FRAM I - Less extensive as FRAM II and more of a reconstruction, FRAM I included installation of both ASROC and DASH. FRAM-I required the destroyer to lose one of it's twin 5-inch gun mounts. FRAM I extended the life of a destroyer by about 8 years. |
| | FRAM-II - developed primarily for the Sumners class, it was mostly a modernization program, however, not all Sumners were "FRAM'd (20) and not all Sumners that were, received DASH. FRAM II extended the life of a destroyer by about 5 years |
The QH-50C Part of DASH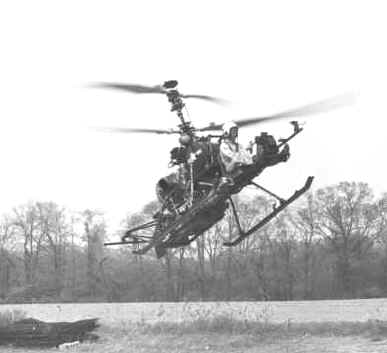 While the U.S. Navy began their FRAM programs to update their destroyers, Gyrodyne received the authorization to proceed with the development of the QH-50C DASH by the Navy on February 4, 1960 under Contract NOw 60-0099-c and to supply the Navy with Two QH-50C aircraft for R & D purposes.

The development of the QH-50C, although an extension of its QH-50A/B helicopters, was in fact, a completely different aircraft. Mating a 255 SHP turbine engine to a transmission where only twin 72 hp piston engines had been, required extensive engineering and machining, but the need was immediate and the rush was on to build not just a prototype, but a production model under the guidelines of the Navy's "Concurrent Development and Production" program. By April 1, 1960, the Navy awarded Gyrodyne contract NOw 60-0154c to supply an additional 15 QH-50C drones for the proposed testing and evaluation phase of DASH. Within 1 year and 2 months and 2 days of the original development contract, the first flight of the QH-50C with a safety pilot took place on April 6, 1961 (as seen upper-left).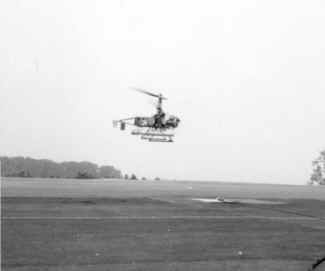 Without a safety pilot, the first remotely controlled flight of the QH-50C occurred at Patuxent River, MD, on January 25, 1962; as seen at right.

To illustrate the urgency of the DASH program for the Navy's stand-off weapons needs, the Navy granted it's production authorization on April 4, 1960: some two (2) months after the R & D go-ahead and ONE YEAR before the first model had actually even flown! To make matters worse, the Naval shipyards were a full three years ahead of schedule, causing completely refurbished FRAM'd Destroyers to go to sea without the DASH system that they had been extensively modified to operate in the first place. This "ship-to-drone gap" together with the stand-off capabilities previously demonstrated by the QH-50A/B models created a strong pressure on the Navy and on Gyrodyne to expedite development and delivery of the QH-50C drones.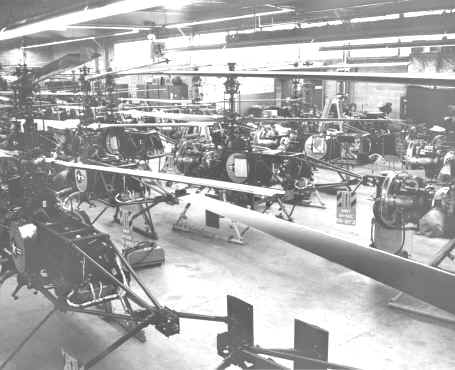 This pressure caused production to slip as developmental problems occurred with the Navy's "off-the-shelf" flight control system. These problems began to occur in test and on the production line (seen left). Despite the initial order of Two QH-50C drones not having being delivered by the December 1960 deadline and therefore the flight testing not having yet begun, the Navy nevertheless ordered an additional 42 PRODUCTION model QH-50C aircraft for fleet use. In the following 35 months, the QH-50C test program was conducted and did reveal many deficiencies of the Drone. Gyrodyne proposed several modifications to the "in-testing" drones, but such action would have halted the production line. The Navy declined the contract to modify the aircraft on the line as well as aircraft already delivered.
The first operational drones were delivered to the fleet when a QH-50C was remotely flown from San Clemente Island, California out to the destroyer USS Buck (DD-761) on November 15, 1962. It had been only 2 years, eight months and one week after the award for the development contract.
Unfortunately, from November 1962 to January 1963, 27 QH-50C drones were lost and the trend showed that further losses would occur if the deployed aircraft were not fixed. The Navy agreed to a mandatory grounding in January 1963.
The major problem dealt with the altitude axis of the automatic flight control system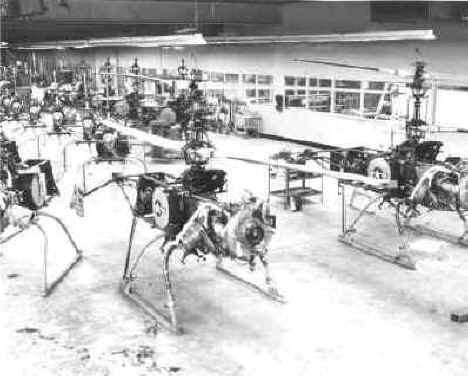 which had been designed to use a Government-furnished (GFE) radar altimeter. With the vendor responsible for the GFE radar altimeter not complying with the goals of the program and no other source available at that time for installation in a remote controlled helicopter, other methods had to be investigated for stabilization of the altitude axis. In January 1963, Gyrodyne requested that all QH-50C aircraft be grounded until the problem could be solved.
Gyrodyne then initiated a crash program to solve the problem by using a barometric altimeter. This led to the development of a static source mounting assembly on the top of the upper rotor drive shaft. The concept of the installation is so unique that it not only solved the vertical axis problem for the QH-50C, but it turned out to be a patentable item in which Gyrodyne received patent no. 3,347,095.
By June 6, 1963, the problem with the "stabilization of the altitude axis" had been solved and the Navy ordered an additional 127 QH-50C aircraft and the production line began to move once again. On February 1964, the Navy placed an additional order for 185 QH-50C aircraft.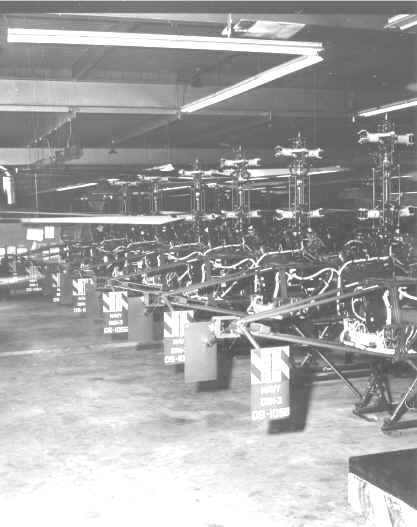 There is no question that the Navy's rush to field the QH-50C resulted in inadequate testing and evaluation. This lack of testing of the GFE automatic flight control system coupled to the coaxial platform resulted in drone losses. It should be pointed out, that these losses were NOT due to the airframe, but rather the obsolete radio-controlled automatic flight control system the Navy insisted upon using.
Irregardless, the belief that the increased range of operations of the ASW QH-50C drone would create such a deterrence effect on Soviet sub commanders that it was felt that the benefits outweighed the risks of possible losses and that fielding the Drone for that effect had value; even if the Drone needed to be updated on the destroyer it flew from.
In April 1964, the Navy directed Gyrodyne to reconfigure 4 QH-50C drones on the production line (seen left) to overcome the problems associated with lacking all-weather capability and to increase guidance accuracy. Those aircraft would become the QH-50D and the most versatile variant of the QH-50 series of drones. With the introduction of the QH-50D to the fleet in mid 1965, the Navy began to replace the lower powered and more troublesome QH-50C with the improved D model.
By 1970, 139 of the 142 surviving QH-50C drones of the original 378 produced had been removed from fleet destroyers and placed in storage. At that time, the QH-50C drones were being retained as a contingency reserve for use in the event of a national emergency. By 1980, all the QH-50C drones in storage had been transferred to the following facilities to act as either missile targets or target towing vehicles:
| | |
| --- | --- |
| | Naval Air Warfare Center (NAWC)-China Lake, California |
| | Naval Air Warfare Center (NAWC)-Pt. Magu, California |
| | U.S. Army Simulation, Training and Instrumentation Command's Target Management Office (US ARMY STRICOM-TMO), White Sands, New Mexico |
By 1998, the U.S. Army's Program Executive Office, Simulation, Training and Instrumentation (PEO STRI) was the sole user of the QH-50C, having acquired the China Lake assets during the base re-alignment program.
What Happened to the FRAM Destroyers that the QH-50C started flying from?
By 1970, all Sumners and Gearing class destroyers had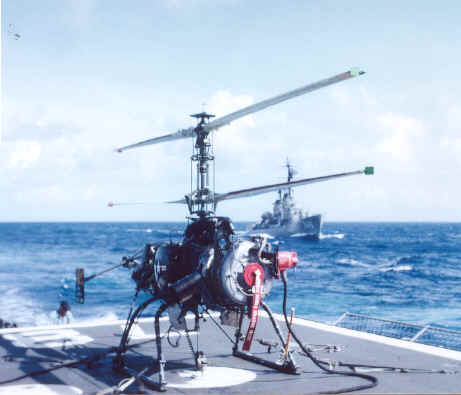 been retired from the U.S. Navy and most transferred or sold to foreign countries, such as Taiwan and Turkey to serve in their Navy. Although most of those ships have since been scrapped, three examples of DASH equipped Destroyers survive today as memorials. The USS Laffey (DD-724), a Sumner class, is at Patriots Point Naval Museum, Mount Pleasant, South Carolina with a DASH sitting on the flight deck. The USS Joseph P. Kennedy Jr. (DD-850), a Gearing, is undergoing restoration at Battleship Cove, Fall River, Massachusetts. The USS Orleck (DD-886), a Gearing, is also currently undergoing restoration by the Southeast Texas War Memorial and Heritage Foundation, Orange, Texas. Although Orleck and the Kennedy flew DASH and the surveillance model of the QH-50D, called "SNOOPY" over Vietnam, Orleck and the Kennedy museums are restoring their ships to the time DASH flew in the ASW role. Both Orleck and Kennedy have acquired a QH-50C and the ship based equipment for their ships and are currently restoring their flight decks, hangars and aircraft. The USS Laffey uses its hangar as a multi-destroyer with the QH-50C placed on their flight deck. You can view our Museums page to see where other QH-50's are exhibited.

Today, there are about SIX surviving QH-50C's that are still used by the United States Army. These aircraft, originally built for Naval shipboard use, are achieving a 97% readiness rate in the deserts of New Mexico over the past 17 years. This rate is reported by the contractor operating the aircraft, for the U.S. Army's Program Executive Office, Simulation, Training and Instrumentation (PEO STRI). Although its torpedo delivery days are over, the QH-50C continues to be an active asset for the U.S. Military as a target towing vehicle in order to develop more precise missiles for the war fighter in the field.
There are 8 known examples of QH-50C that are available for viewing in museums.
As the QH-50C remains an active asset of the Department of Defense after outliving every ship it was deployed on as DASH, and by an additional 30 years as well, Gyrodyne Helicopter Historical Foundation is proud to submit the following data on this historic aircraft that just won't quit!
PERFORMANCE SUMMARY

Take-Off Loading Conditions-ASW Attack, Full Fuel

QH-50C First flight of prototype w/safety pilot on April 6, 1961 with T50-BO-4 engine

QH-50C First Remote Controlled Flight on January 25, 1962 at NATC, Patuxent River, MD

TAKE-OFF WEIGHT
2303 LBS.

MISSION AND DESCRIPTION

The Model QH-50C Drone is a remotely controlled rotary-wing ASW weapon carrier designed to deliver alternate weapon loads of 750 lb or 850 lb. Combat radius of the-drone is about 30 nautical miles, depending on loading condition, at a cruising speed of 80 knots. The combat mission includes a 12 minute hovering capability at the target prior to release of weapon(s). The drone incorporates two two-bladed counter-rotating coaxial rotors of the semi-rigid (see-saw) type.
The blades are of laminated wood construction, incorporating taper in planform and thickness and 12' negative twist. The machine is completely controllable through the rotors. Rotor controls are operated by the automatic stabilization and remote control equipment.
Control in pitch and roll is obtained through conventional cyclic pitch control. Control in yaw is achieved by means of rotor blade tip air (drag) brakes, which provide positive directional control in all flight regimes. Directional stability in forward flight is provided by means of two vertical tail surfaces. The power plant is the 300 hp T50-BO-8A gas turbine engine built by the Industrial Products Division of the
Boeing Airplane Co.

POWER PLANT
WEIGHTS
Engine
(1) T50-BO-8A
Empty
1172 Lbs
Manufacturer
Boeing Airplane Co.
Normal Gross I
2181 Lbs
Type
Gas
Normal Gross II
2303 Lbs

RATINGS

FUEL AND OIL

BHP
RPM
ALT
No. of Tanks
Gallon Cap.
Location
Military
300
5950
SSL
One
33.6 gals
Aft of Trans.
Normal
270
6000
SSL
Grade of Fuel:
JP-5

ELECTRONICS

OIL
AN/ARW-78 (1 each)
Radio Rec. Set
Capacity:
3.0 gallons
AN/ASW-20 (1 each)
Automatic Flight Control Set
Specification:
MIL-L-7808C

Fuel
230 LBS.
Payload
866 LBS.
Disc Loading
7.33 lb/sq.ft
Vertical Rate of Climb at S.L.
1355 fpm
Absolute hovering ceiling
11,120 feet
Maximum rate of climb at S.L.
1845 fpm
Service ceiling
16,200 feet
Speed at S.L.
80 knots
Max. Speed/alt.
80 knots/S.L.
Combat Range
70.65 n. miles
Cruise Altitude
Sea Level
Vert. Rate of Climb at S.L. at 90 degrees
475 fpm
Ordnance
MK-44 Torpedo (2)
Ordnance load II
MK-46 Torpedo (1)
General Arrangement QH-50C Drone

1. Tip brakes
6. Rotor brake
11. Tail surfaces
16. Engine (T50)
2.Upper rotor
7. Airborne generator
12. Fuel tank
17. Electromechanical rotary actuator
3. Static Pressure pick-up assembly
8. Transmission
13. Landing gear
18. Non-rotating controls
4. Rotating Controls
9. AFC set components
14. Antenna
5. Lower rotor
10. Aft fuselage
15. Weapons (MK-44)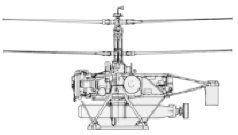 Serial Number History

QH-50C Drone (referred to DSN-3 prior to 1962)

Serial Numbers

Number Produced

Manufacture Date

Disposition

N-300
1
February 1961
Model DSN-3, N-300 was assigned to ground testing as the first aircraft of its type, it had problems-from Feb to March 1961, the aircraft suffered from blade cracking and on May 18, 1961 with only 26 hours of running time, the first stage pinion bearing disintegrated. The bearing design was changed for all 4 R &D DSN-3 aircraft and N-300 returned to flight status on July 13, 1961.
N-301 through N-303
3

February through June, 1961

Used for R & D of the automatic flight control system, These early versions were "manned" DSN-3s and were subsequently used for parts, transmission run-in and engine test units and subsequently scrapped.
DS-1008
1

June 1961.

DS-1008 originally was a semi-drone with manned provision using parts from N-303. That provision was later removed and the aircraft was rebuilt as a pure drone and delivered to the Navy in Feb. 1961. Used at Gyrodyne for Avionics R & D. Subsequently used for parts and scrapped
DS-1009 through DS-1192
184

July 1961 through October 1963.

DS-1009 was the FIRST DSN-3 (QH-50C) built as pure drone.

First 9 aircraft used for OPTEVFOR (Operational Evaluation). All subsequent production were delivered to U.S. Naval Fleet; 2 survive today in museums.
DS-1193 through DS-1196
4

October 1964

Returned to Gyrodyne: Converted into D models in January 1965; Used for testing, none survived.
DS-1197 through DS-1381
185
Late October 1964 through December 1965
Delivered to U.S. Naval Fleet; 7 survive today in museums.
DS-1382
1
December 1965
Returned to Gyrodyne: Converted into a D model in January 1965, becoming the first QH-50D to be built and delivered; It did not survive.
DS-1383 through DS-1385
3
December 1965
Delivered to the U.S. Navy, none survived.
If you still haven't seen enough of a QH-50C, A model builder by the name of Ben Gunther scratch built a 1/48 scale model of one and won Best of Show at the 1997 IPMS (USA) National Convention in Ohio. Click on the C model icon below to go to that page!